Idea Management Software
Collect ideas and manage them. Plain simple.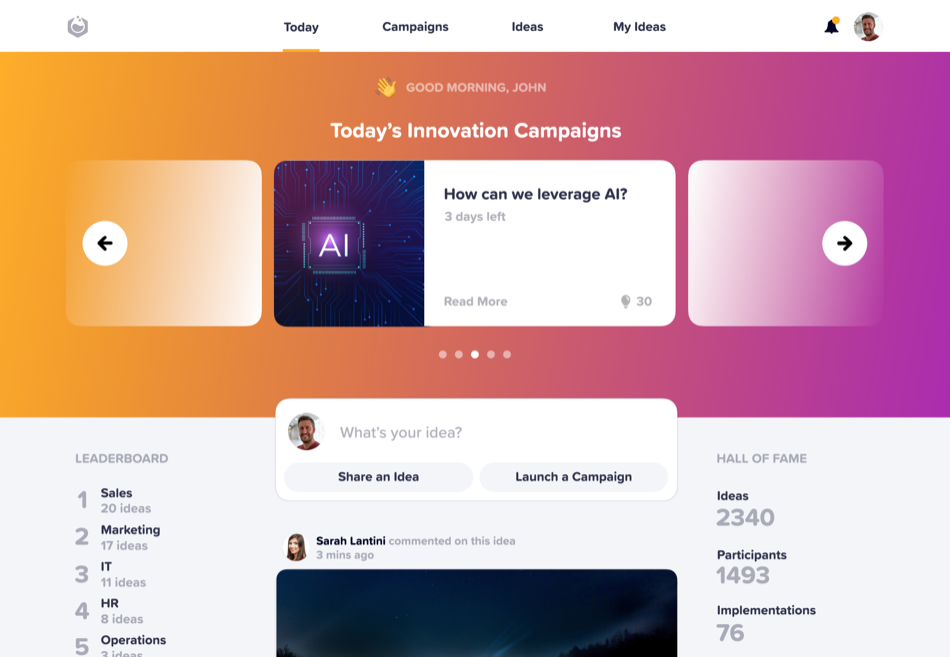 Nurturing Brilliance, One Idea at a Time
Empower teams to harness their creativity and streamline their ideation processes. Turn brainstorming and idea generation into collaborative and structured endeavors. Capture, organize, and refine ideas by allowing teams to easily collaborate, comment, and build upon each other's thoughts.
✔ Streamline your ideation processes
✔ Capture, organize, and refine ideas
✔ Collaborate, comment, and build upon each other's thoughts
✔ Customizable workflows
✔ Seamless integration
✔ Visualization tools
Explore Features ➞
Distinctly Us
Experience an exceptional product with even more exceptional customer service.
What is Idea Management?
Idea management refers to the process of capturing, organizing, evaluating, and implementing ideas from various sources within an organization or community. The goal of idea management is to foster innovation, improve processes, and drive positive change by leveraging the collective intelligence of employees, customers, partners, or other stakeholders.
Key aspects of idea management typically include:
Idea Generation: Encouraging individuals to submit their ideas and suggestions. This can be done through various channels, such as suggestion boxes, digital platforms, brainstorming sessions, or innovation workshops.
Idea Capture: Gathering and documenting all submitted ideas to ensure that nothing gets overlooked or lost. This may involve categorizing ideas, assigning them unique identifiers, and storing them in a centralized database.
Idea Evaluation: Assessing the potential value, feasibility, and alignment with organizational goals for each idea. Ideas can be evaluated based on various criteria, such as cost-effectiveness, resource requirements, market demand, and strategic fit.
Idea Selection: Prioritizing and selecting the most promising ideas to pursue further. This step often involves involving key stakeholders, decision-makers, and subject-matter experts to make informed choices.
Idea Implementation: Turning selected ideas into actionable projects or initiatives. This stage involves defining clear objectives, creating project plans, allocating resources, and monitoring progress.
Idea Tracking: Keeping track of the progress of implemented ideas and evaluating their impact on the organization. This allows for the identification of successful ideas and helps learn from less successful ones.
Benefits of idea management include:
Increased innovation: By involving a wide range of contributors, organizations can tap into diverse perspectives and generate more innovative solutions.
Employee engagement: Encouraging employees to contribute their ideas fosters a sense of ownership and engagement in the organization's success.
Continuous improvement: Regular idea management helps identify areas for improvement and enables the organization to adapt and evolve over time.
Competitive advantage: Implementing successful ideas can lead to unique products, services, or processes, giving the organization a competitive edge in the market.
To effectively manage ideas, organizations may utilize specialized software tools or platforms that streamline the idea submission, evaluation, and implementation processes. These tools often offer collaboration features, voting mechanisms, and analytics to support idea management efforts.
Powering Collaborative Innovation worldwide.
Request a Demo Now!
Trusted by some of the world's smartest companies