Open Innovation Software
Look outside of your walls for the next big thing.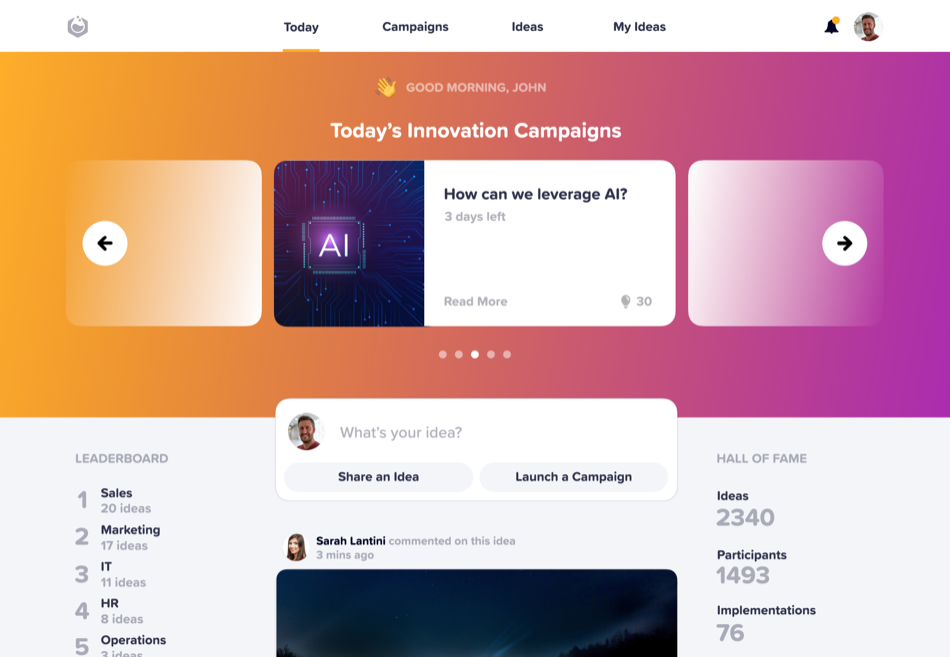 Fueling Progress through Shared Innovation
Harness external ideas and insights. Streamline and facilitate the seamless integration of external contributors, internal teams, and diverse stakeholders. Customize workflows, idea submission portals, and evaluation tools.
✔ Streamline your open innovation initiatives
✔ Harness external ideas and insights
✔ Facilitate external and internal teams
✔ Customizable workflows
✔ Customizable idea submission portals
✔ Visualization tools
Explore Features ➞
Distinctly Us
Experience an exceptional product with even more exceptional customer service.
What is Open Innovation?
Open innovation refers to the practice of leveraging external ideas, knowledge, and resources to complement or supplement an organization's internal innovation efforts. In other words, it is a collaborative approach that involves seeking and incorporating external contributions into the innovation process.
Traditionally, innovation was seen as an internal process within a company, where research and development activities were conducted in-house, and ideas were kept confidential. However, with open innovation, organizations recognize that valuable ideas and technologies can also be found outside their boundaries, and they actively seek to engage with external stakeholders in the innovation process.
There are two main ways open innovation can be practiced:
Inbound Open Innovation: Inbound open innovation focuses on bringing external knowledge, ideas, and technologies into the organization. This can be achieved through various means, such as:

Collaborating with external partners, such as universities, research institutions, startups, or other companies, to access their expertise and innovations.
Participating in innovation challenges, contests, or hackathons to solicit ideas and solutions from a diverse community of problem solvers.
Engaging with customers and users to gather insights, feedback, and ideas for new products or improvements to existing ones.
Licensing or acquiring external technologies or intellectual property to incorporate into the organization's products or services.

Outbound Open Innovation: Outbound open innovation involves leveraging the organization's internal assets, such as technologies, patents, or expertise, and sharing them with external entities. This can lead to various benefits, such as generating additional revenue streams, establishing strategic partnerships, or creating new market opportunities.

Licensing or selling intellectual property or technology to other companies.
Collaborating with external partners to jointly develop and commercialize products or services.
Spinning off internal projects into separate ventures or startups.
The benefits of open innovation include access to a broader pool of ideas, reduced development costs, faster time-to-market, increased flexibility, and the potential for disruptive innovations. However, open innovation also requires effective collaboration, intellectual property management, and the establishment of trust among partners.
Many successful companies today embrace open innovation as part of their overall innovation strategy. They recognize that tapping into external knowledge and expertise can significantly enhance their ability to stay competitive and deliver novel solutions to the market.
Powering Collaborative Innovation worldwide.
Request a Demo Now!
Trusted by some of the world's smartest companies